Creative Building Corporation (CBC) is one of the leading design/build companies in the entire Midwest. At CBC, we believe that one of the most important aspects of a home is that it flows comfortably.  We like to use the term "functional grandeur". It means that all aspects of each design must work smoothly together both visually and functionally.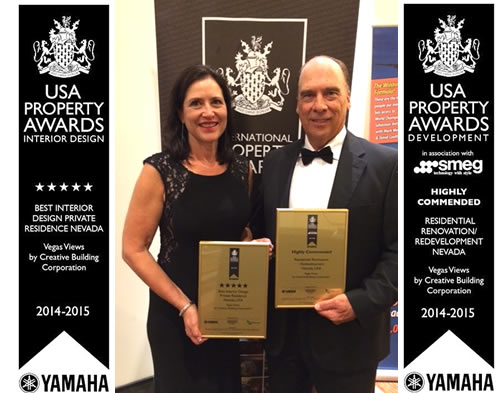 Creative Building Corporation manages each project from start to finish. To both design and build a home naturally helps CBC stay on the same page with its clients. Building a new home should be a wonderful experience. It's a chance to contemplate one's home life and build something that will have a lasting, elevating impact on it. For this reason more and more families are choosing Creative Building Corporation as their home builder.
Creative Building Corporation (CBC) won the HIGHLY COMMENDED Award for REDEVELOPMENT and 5 STAR Award for INTERIOR DESIGN for their home "VEGAS VIEWS".  It was among the winners in the Americas regional stage of the prestigious International Property Awards 2014-15.   CBC was the exclusive winner of a full-page advertisement in the International Property & Travel Magazine, which is distributed among 59 international airlines.
Creative Building Corporation is proud to compete against the top builders and win both Gold (Entire Home Remodel category) and Platinum (Specialty remodel category) BALA Awards.
Sioux Falls Business Receives A National Honor
by KDLT News
A Sioux Falls home builder and designer is being honored as one of the best in the country. Creative Building Corporation transformed a traditional style home built in 1994 into an award winning ultra contemporary home. The Sioux Falls company won two "best in American living" awards, presented by the National Association of Home Builders. The 7,400 square foot home is located in Las Vegas, and features floor to ceiling windows and a 185-foot stream with a waterfall. They rent the home to the movie and entertainment industry.