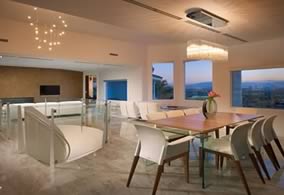 Custom Homes with Distinctive Quality and Style
Troy Stallings has focused on surrounding himself with a group of highly skilled craftsmen and professionals that share his pride in building well designed and detailed custom homes. His team of designers and craftsmen also specialize in amazing home remodeling and refinishing projects that can transform any home into a stylish, dream-come-true.
Troy's keen eye for design, attention to detail, precision custom house plans, and well-developed coordination skills ensure each project is well designed, executed and most importantly customers are extremely satisfied with the outcome.
Besides his highly sought custom home designs, he is known as one of the top general contractors in Sioux Falls, South Dakota, responsible for providing all of the material, labor, equipment, engineering, vehicles and tools, and services necessary for the construction of all the project homes.
Over the years, Troy has earned a reputation as one of the premier home builders and contractors in the Sioux Falls area, with numerous industry awards for his custom homes.
Creative Building Corporation also provides full cost effective project construction management services and will work with you on finding the perfect lot for your home.
Custom Home Photo Gallery

Read About our Luxury Mansion Remodel in Las Vegas


CASA de VISTAS
Announcing our new, custom home being built in San Clemente, California
3 bedrooms
2 1/2 baths
4 stall garage
2,600 square feet
What happens when you buy a 1980s era 2,400 square foot Spanish style villa minutes from the San Clemente pier? You design and complete a down-to-the-studs custom home remodel! When finished, Casa de Vistas will boast an expanded 2,600 square feet, large open floor plan with a master en suite featuring a spa-like bathroom. There will be room for everyone with a total 3 bedrooms, 2.5 bathrooms, and a 4 stall garage. The large deck with a dramatic view of the ocean and fire pit provide all the peace and solitude to finish a long day. There's even time to pick your own finishes and colors.